German Dairy Show on 26th / 27th June 2019 in Oldenburg
Our main sponsors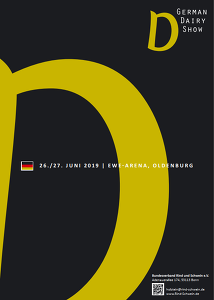 After the merger of the umbrella organisations in cattle breeding to the German Livestock Association, the national show will also be further developed. Therefore the breeds Red Cattle and Jersey as well as Fleckvieh and Brown Swiss will also be represented in Oldenburg in 2019. As a result, the event will be given a new name: German Dairy Show is the new title that must now establish itself nationally and internationally. But it is not only the new name, but also the logo, appearance and schedule will be redesigned.
The diversity of breeds at Wednesday evening
The German Dairy Show remains the national show for Holstein and Red Holstein. For the other breeds there will be competitions on a smaller scale with only a few classes. And therefore at the end of the show a Supreme Champion, a winning cow of all breeds, will be chosen.
Due to the greater variety of breeds there will be no auction at the German Dairy Show. This provides space for the competitions of the new breeds on the evening of the first day. In addition, the Holsteins and Red Holsteins will bring forward the decision about the winner of the young cow classes to Wednesday evening.
In addition to these competitions, the focus on the evening of the first day will be on the progeny groups from interesting sires. They will be presented in the small EWE Arena. There, as well as in the neighboring foyer, the international breeders' reception will take place. Visitors will be able to observe the progeny groups in a relaxed atmosphere. The presentation of the progeny groupsin the ring will take place on the second day.
The old cow classes will not be grouped according to the number of calving as before, but according to their life production. Another new feature is the awarding of prizes to successful farms. The criteria to be considered are beside others indicators such as herd performance, day of life production, longevity and cell count. All herdbook farms belonging to the member organisations are available for selection.
Save the date already now in your calendar!
Preliminary program
Wednesday, June 26th, 2019
National clipping and showmanship competition of young breeders
International reception in the offspring-hall with groups from interesting sires
Competitions: Brown Swiss, Fleckvieh, Jersey, Red Cattle and Young Cow Classes of Holsteins and Red Holsteins with Championship
International breeders' reception
Thursday, June 27th, 2019
National German Holstein Show: judging of Mature Classes
Classes of cows with high lifetime production
Demonstration of the progeny groups from interesting sires
Award for economical herds according to criteria of milk production
Selection of the Grand Champions
Selection of the Supreme Champion
| | |
| --- | --- |
| Holsteins: | Markus Mock, Markdorf |
| Red Holstein: | Andrea Uhrig, Sulzbach |
| Jersey, Rotvieh: | Thomas Hannen, Tönisvorst |
| Fleckvieh, Braunvieh: | Ernst Grabner, Niederösterreich |