Type classification
Linear discription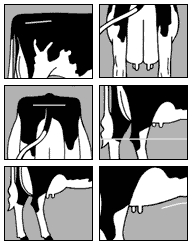 A functional conformation is the basis for high performance over several lactations. In Germany, conformation classification has been used for many years in the conformation evaluation of daughter groups. 19 linear traits (18 WHFF standard and hock quality) are described by classifiers. The classifiers work according to international standards and are regularly trained and checked by the German Livestock Association (BRS). Regular data monitoring ensure that the specifications made by the BRS are adhered to. The recorded conformation data is then evaluated by data center vit. Breeding values are determined for all linear individual traits as well as for the trait complexes dairy character, body, feet & legs and udder.
At WHFF level, Germany is working together with other countries on the harmonisation of conformation traits.
Download: description of single conformation traits (in German)
Cow classification
The conformation of the cows is assessed by combining the four complexes dairy character, body, feet & legs and udder according to a 100-point system. For each trait complex, scores from 65 to max. 99 points are possible. With weights of 10% for dairy character, 20% for body, 30% for feet and legs and 40% for udders, the combination of these four scores results in a conformation score of between 65 points and a maximum of 99 points. First lactation cows can achieve a maximum of 88 points in each trait. For second lactation cows, the upper limit is 90 points per trait. Only from the third calving onwards there are no more limits. Cows that are assessed with 90 and more points in the overall score receive the title Excellent. In Germany, the highest score is currently EX-96.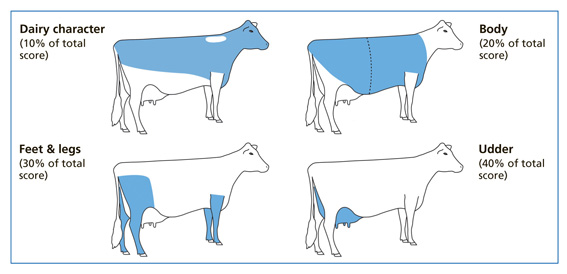 Download: description of the trait complexes (in German)
TheVirtual Cow
The following link will take you to the Virtual Cow. The Virtual Cow is a development of Holstein UK, which makes it possible to visually display the 19 linear traits of the Holstein breed in all scale values from 1 - 9. The Virtual Cow is used for the education and training of classifiers and for training purposes at agricultural schools and universities. Access to the Virtual Cow is available through your breed association.